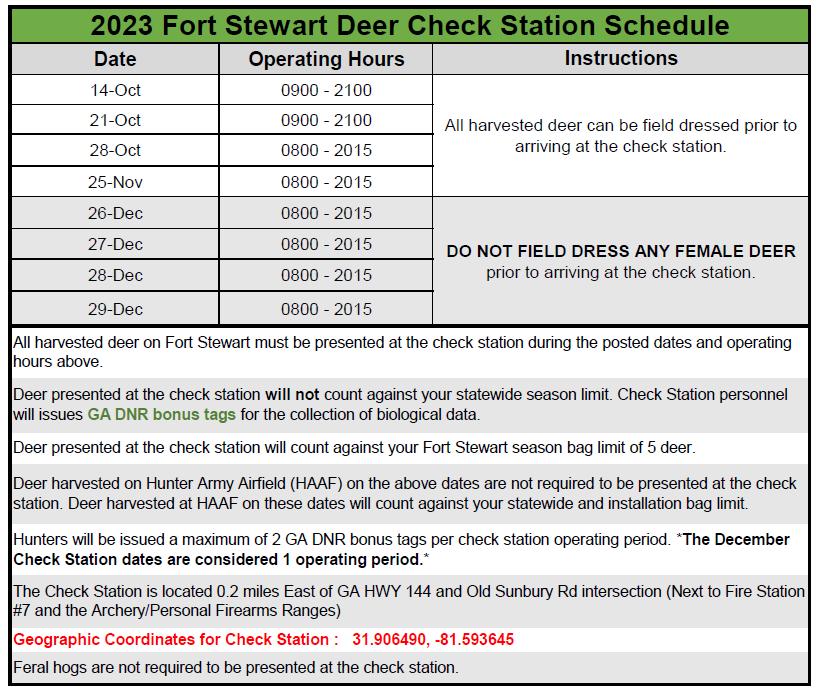 Click Here for Check Station Location
Frequently asked Check Station questions...
Q: Why am I required to bring deer all the way to the check station on certain days?
A: The check station is one of the most critical components to deer management at Fort Stewart. With large amounts of collected biological data, we can be more confident in future decisions regarding seasons, bag limits, and either-sex harvest allotments.
Q. What happens if I cannot make it to the Check Station with a harvested deer before the posted closing time?
A. Contact the Military Police Desk (912) 767-4264, ask to speak with the Game Warden on-duty.
Based on your location, the current conditions, and the personnel at the Check Station, the Game Warden will advise the proper procedures for you.
Q. After I check my deer in, can I clean my deer at the Check Station during operating hours?
A. Yes! There will be 6 cleaning stations available, running water, electricity, gut buckets, and a dumpster for carcass disposal.
Q. Do I need to bring feral hogs harvested on Check Station Days for data collection?
A. No.
But you are welcome to bring, skin, and process hogs while we are operating the check station, but we will not weigh them or collect any data.
Please contact us below if you have any additional questions regarding the Deer Check Station procedures.
usarmy.stewart.id-readiness.mbx.fs-haaf-isportsman-inquiries@army.mil
For emergencies, please call Ft Stewart Central Dispatch at (912) 767-2822.